‍Volume 6, Issue 8, December 2021 
---
Dear , ‍
Season's greetings, friends, colleagues, and elves of Hornland! 
The university is in the throes of final exams, our local run of The Nutcracker was a great success, lights and trees are up everywhere, and snow has flurried. It is beginning to look a lot like Christmas! And, as promised, here is our December 2021 Horn and More festive Part Two issue. Consider it a Christmas cracker or a stuffed stocking from your International Horn Society! The long-awaited interview with the inimitable Sarah Willis heads the line-up. Then, enjoy updates and messages sent by fellow horn players from around the world.
On behalf of the officers and Advisory Council of the International Horn Society in addition to all the amazing staff and representatives, merry Christmas and happy holidays to you all!
Mike Harcrow, Editor, Horn and More
‍Interview with Sarah Willis
---
‍
Dear IHS Members,
I wanted to let you know that all the pieces from the Mozart y Mambo project have been published and will make perfect Christmas presents!🎄🎅🏻📯 We have published the pieces not only in the full orchestral versions we recorded, but we also have made chamber music arrangements of Rondo alla Mambo, Dos Gardenias and El Manisero—which are so much fun to play! The horn octet Que Rico el Mambo is definitely also a highlight, and the "Sarah's Mozart Notes" include all my articulations, dynamics and the fabulous cadenzas written by Klaus Wallendorf which I played on the recording. You can also set up your own salsa band and perform the Sarahnade Mambo💃🏻🕺
You can order all the Mozart y Mambo sheet music either from Köbl in Germany  or from Ken Pope in Boston. All the profits from these publications will go directly to the Cuban arrangers and composers, and I would be so happy and proud to know that IHS members all over the world are playing Mozart y Mambo—please let me know if you do and I hope you enjoy playing these incredible pieces as much as I do.
Merry Christmas and love from Berlin,
Sarah Willis
Editor's Note: Below is an extra-special week-early pre-release gift from Sarah and the Berlin Philharmonic Horns to you, our readers. Enjoy! And thank you, Sarah! MH
---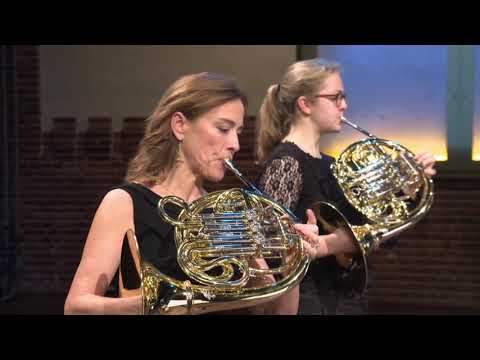 ---
‍I Made It!
---
‍สวัสดีปีใหม่ —
Happy New Year from Thailand!
The Mahidol University Horn Studio and Dr. Daren Robbins send their best wishes for a wonderful holiday season and a happy new year! The festive soundtrack is performed by the Thailand Philharmonic, a professional orchestra operated by the College of Music at Mahidol University.
---
‍IHS Advisory Council Nominations
‍Are you curious about how the Horn Society conducts business on a regular basis? Have you thought about becoming more involved in the IHS but weren't sure how? Please consider joining the Advisory Council! The only requirements are that you are an IHS member and that you are nominated by another IHS member. We welcome anyone who is interested!
Nominations must include the nominee's name, address, telephone number, email address, written consent (received directly from the nominee), and a biographical sketch of the nominee up to 150 words in length. Send nominations to Julia Burtscher at exec-director@hornsociety.org. If you have any questions about how the process works or what the role entails, please do not hesitate to contact Julia directly.
---
A Merry Little Christmas
---
Horns-a-Plenty Christmas
Horns-a-Plenty Christmas is celebrating its 20th year, and just this past Friday, December 10, the group opened the season with its first-ever concert in Memphis, Tennessee, where forty horn players came together for a grand public performance of holiday music. On Saturday, December 18, 2021, guest artist Greta Richard from The President's Own Marine Band will be performing with Horns-a-Plenty Christmas in Appleton, Wisconsin.
Recently, Donald Krause, founder of Horns-A-Plenty Christmas, suffered chest pains associated with a chronic heart ailment. He has since become the first patient to undergo a successful new therapy for this condition. For Donald, the benefits of volunteering for this clinical trial were twofold: the opportunity to contribute to science in a way that could potentially help others suffering from heart disease; and, the hope that such an intervention might allow him to continue playing his horn for many years to come.
"I'm 81 years old now, but I'd like to play my French horn until I'm at least 91…and maybe even 101," said Krause. "Music is obviously very important to me, but so is good health. I've seen a lot of people die from heart disease over the years, and I hope that my participation in this trial today might help many thousands of people in the future."
Happy holidays to all from Horns-a-Plenty!
Watch We Wish You a Merry Christmas at the Capitol Rotunda in Madison, Wisconsin.
Watch Cherry Tree Carol at the Capitol Rotunda in Madison, Wisconsin.
---
Looking for Holiday Gift Ideas?
Give an IHS membership to the horn player in your life!
Details Here
Visit our
Online Store
to shop a wide variety of IHS logos and items!
---
‍Season's Greetings from IHS 54
---
---
‍Holiday Cheer
‍by Brad Tatum
A year ago, my Washington, D.C. freelance colleagues and I wanted to do something fun to bring holiday cheer to all who needed it. So, using my limited understanding of recording technology and a little creativity, we put these three videos together…and we had a great time. I'm thankful for colleagues who are always a joy to work with, and we hope that everyone has a Merry Christmas!
Jingle Bells
Silent Night
God Rest Merry, Gentlemen
Happy Holidays from Brad, Amy, Ken, and Shawn
---
Happy Holidays From Our IHS President Radegundis Tavares
---
‍New Translations at IHS Online
‍The entire IHS website is now available in eight languages in addition to the original English. To view the site in Chinese (traditional), French, German, Italian, Japanese, Korean, Portuguese or Spanish, select the desired language from the dropdown just above the page title on the left side of the screen.
‍YOUR HORN AND MORE IHS E-NEWSLETTER TEAM:
Mike Harcrow, Editor, hornandmore@hornsociety.org
Dan Phillips, Technical Editor
Ab Koster, Pedagogy Column
Nobuaki Fukukawa
Gabriela Ibarra
Serina Turrieta
Lydia Van Dreel
Heather Thayer, Proofreader
‍International Horn Society
P.O. Box 5486
Toldeo, OH 43613
USA