‍Volume 8, Issue 9, September 2022 
---
‍D‍ear , 
Hello! Let's start with a correction: there is nothing more than horn. Agreed? Agreed! YAY fellow horn geeks! (This newsletter should be called either Horn or Horn and More Things HORN. Who named this thing, anyway!?) 
Ahhhhh…the horn. It can't be overstated how wonderful it is to be playing with fellow hornists again. The feel. The smiles from the audience. Our shared smiles together as hornists. And of course, the sound. IHS54 just happened in Kingsville, Texas, USA, and we send massive thank you's to our incredible host Jennifer Ratchford Sholtis! Could someone please let her know about our thank you's whenever she finishes sleeping-off all the hard work! Thank you, Jennifer and Team Jennifer! Our feature installment for this month's issue has the ever-roving, ever-reporting Lanette Compton offering video vignettes from this huge southern Texas summer IHS event. And I'm already looking forward to next year's IHS 55 in amazing Montréal, Canada, with Louis-Philippe Marsolais, hôte avec le plus!
Also in this edition of Horn and More, we'll meet both new and familiar horn people, starting in the horn studios of the Musikhochschule Trossingen in Germany (lead by Saar Berger), and the Eastman School of Music in Rochester, New York, USA (lead by Peter Kurau). Harriet Foltinek offers us a super-cool historical follow-up to our previous piece on Dick Martz's collection of strange and wonderful horns. Then we'll meet the José Félix Ribas Brass Ensemble in Venezuela. Tom Varner introduces us to his latest recording project, and Caiti Beth McKinney opens a new Horn and More column with a spotlight on composer Faye-Ellen Silverman.
As hornists, it's a wonderful world we get to share. There is so much history we're sharing today and so much new sharing to come. I still get nervous to share EVERY TIME I go to perform. What works the best for me is to be thankful for the opportunity. Michael Jordan, in his inspirational movie To The Max, says that each time he leaves the dressing room he thinks about that one kid out there who hasn't seen Michael Jordan play, and he plays for that kid. I think about that one kid who's deciding between playing horn or bassoon…SAVE THEIR LIFE!😲 (Apologies to my bassoonist sister—kinda!)
Thanks for reading, and have a wonderful September, eh!?
Jeff Nelsen
IHS Past President (2015-2016)
…and The One Who Named Horn and More
‍IHS 54 Roving Reporter
‍For those who missed IHS 54, for those who have never been to an IHS Symposium, and for those who just want to relive some of the fun, the September edition of Horn and More contains a special treat! Interspersed between the articles in this issue are a few short, live-shot videos from IHS 54. Oklahoma State University horn professor Lanette Compton walks-and-talks us through the wonderful venue and some of the events from this year's Symposium in Kingsville, Texas. Sincere gratitude to Professor Compton for sharing some glimpses into this great event, and special thanks to James Boldin for editing these short video presentations.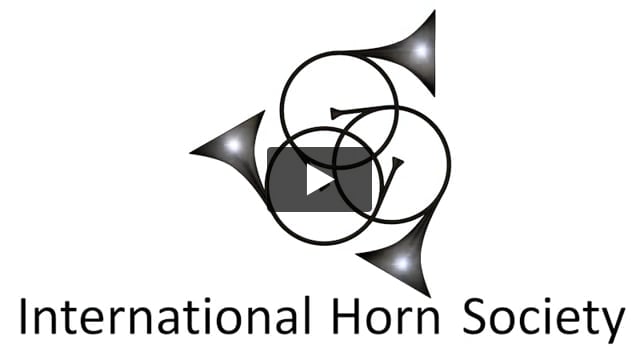 ---
Musikhochschule Trossingen
b‍y Saar Berger
The School
Black Forest, Baar, and Heuberg—these three names are synonymous with breathtaking landscapes, a flourishing economy, down-to-earth culture, and high art. And right in the center, almost as a heart, is the Trossingen State School of Music, the only German university of music in a non-urban area. Additionally, as the only German music school in the Euregio Bodensee (in southwest Germany near several international borders), the State School of Music enjoys an international reputation, manifest in numerous cross-border partnerships. The geographically diverse region provides a vital network for artistic activities and educational experiences. With more than 400 events annually, the School of Music assumes responsibility for a wide range of performances at its location and, in partnership with local organizers, in the greater Euregio Bodensee. 
Tradition and Innovation
Courses at the Trossingen State School are characterized by intensive practical relevance and individual opportunities for professional preparation. The School of Music offers traditional instrumental training while cutting-edge applications bridge the gap to the digital age. 
During the Second World War, training courses from various German music colleges were relocated to Trossingen. The town proved to be attractive, and the State School of Music finally emerged from the provisional arrangements. The school has given hundreds of students the tools for a career in major symphony orchestras, choirs, or as soloists, music teachers, or conductors.
Around 450 students are enrolled at the School. The traditional subjects of a music college are offered with a special focus on orchestral instruments. The brass and percussion section, with its Positively Brass & Percussion Institute, is particularly strong, and the aim of the institute is to provide chamber music and orchestral training of the highest quality.
The Horn Studio
The Trossingen Horn Class is a group from around the world. Between 12 to 15 students per semester—from the United States, Spain, Italy, Costa Rica, Switzerland, Israel, China, Slovenia, Finland, Japan, Malaysia, and Germany—study with Prof. Saar Berger in a variety of degree programs. They participate in weekly horn lessons, natural and baroque horn lessons; studies in the chamber music, orchestral, and solo repertoire; audition preparation, horn ensembles, and workshops and masterclasses with various guest artists and orchestra players. A large number of Prof. Berger's recent graduates have won positions in orchestras across Germany.
Enjoy the Trossingen Horn Class 2021 performances of the Scherzo movement of Shostakovich's Symphony no. 10, arranged for them by Bruce Richards, and Fanfare for Barcs, by Kerry Turner.
Professor Berger
Saar Berger has been Professor of Horn at the Trossingen State School of Music since 2019. Born in 1980, he studied horn at the Rubin Music Academy in Tel Aviv before joining the Israel Opera and Symphony Orchestra. He has been a member of the international soloists' group Ensemble Modern in Frankfurt since 2007. Thanks to scholarships and awards from the Zvi and Ofra Meitar Family Fund and the America-Israel Cultural Foundation, he completed his studies in Berlin with Prof. Marie-Luise Neunecker and in Frankfurt with Prof. Erich Penzel and Prof. Esa Tapani. Prof. Berger works closely with many young and internationally established composers and has been able to enrich the already extensive horn literature by performing many world premieres of concerti and solo pieces. He has been part of the teaching team at the Lucerne Festival Academy since 2017, and he teaches at the International Ensemble Modern Academy and at the University of Music and Performing Arts in Frankfurt. He is regularly invited to present masterclasses and performances around the world. During the pandemic, when live concerts were prohibited, Prof. Berger engaged twelve composer friends to create a new video production cycle of 12 World Premieres for Horn Solo. You will find many of Saar Berger's recordings on his YouTube channel.
---
The Eastman School of Music
by Peter Kurau, with Morgan Chalmers
The School
Greetings from the Eastman School of Music Horn Studio! I'm Peter Kurau, Professor of Horn at Eastman where, since 1995, I've had the great honor of succeeding my own undergraduate teacher Verne Reynolds in this capacity. This year, I have the pleasure of working with 24 magnificent horn students and collaborating with esteemed horn colleagues William VerMeulen (Visiting Professor of Horn), Jacek Muzyk, Maura McCune Corvington, and Stephen Laifer (Adjunct Instructors of Horn), and Derek Conrod (Visiting Instructor of Natural Horn). The students hail from 15 states and 4 countries and are pursuing Bachelor's, Master's, or Doctoral degrees in horn performance and/or music teaching and learning, with many students pursuing a second degree or minor field within Eastman or at the main campus of the University of Rochester, approximately a 15-minute shuttle ride from the Eastman campus in downtown Rochester. Ensemble offerings in the curriculum include 2 full symphonic orchestras, a chamber orchestra, a new-music ensemble, and 2 wind orchestras—including the venerable Eastman Wind Ensemble—plus a full array of chamber-music opportunities and Horn Choir. Most of the performances are live-streamed, so please join us as your interests and schedule allow. Wishing you all a most successful and enjoyable season and year! Most CORdially, PK
Student Highlights
-Spencer Bay graduated in 2021 and is a second-year fellow in the New World Symphony.
-Kira Goya graduated in 2021 and won the fourth horn position in the Fort Collins Symphony.
-Emily Houston graduated in 2021 and is a private teacher at the Keller Independent School District Division of Fine Arts in the Dallas/Fort Worth Metroplex.
-Claire Bradley graduated in 2020 and won a position in the United States Army "Pershing's Own" Ceremonial Band.
-Ava Conway graduated in 2020 and won a position in the United States Navy Band.
-Jessica Elder graduated in 2018 and recently won the principal horn position in the Utah Symphony.
-Senior Joseph Alberico is currently performing a one-year contract position as second horn in the Buffalo Philharmonic Orchestra.
-Nikkolette LaBonte is pursuing her doctorate at Eastman and is currently guest principal horn for the Baltimore Symphony Orchestra. She has also served as principal horn for Music in the Mountains in Colorado, and she is on faculty at the Kendall Betts Horn Camp, Eastman Horn Institute, and the Natural Horn course at Eastman.
The Horn Studio
The 2022-23 Eastman School of Music Horn Studio, with Professor
Peter Kurau (far left, front), and adjunct horn faculty Stephen Laifer
and Maura McCune Corvington (far right, front).
Enjoy the Eastman Horn Studio performing the world premiere of Out of the Depths, by Pamela Marshall, written in celebration of the School's centennial year in 2021 and performed this past March during the Women in Music festival held on campus.
Professor Kurau
Peter Kurau's principal teachers included Verne Reynolds, David Cripps, William Capps, and Horace Fitzpatrick (natural horn). He has been an active member of the International Horn Society, having served on its Advisory Council for eight years and as Vice-President, Secretary-Treasurer, Pedagogy Editor, and member of the Editorial Board for The Horn Call. Prof. Kurau also hosted the 29th Annual International Horn Symposium, held in 1997 at the Eastman School. In 2016, he was honored with the IHS Punto Award. To learn more, read his full biography.
---
‍IHS 54 - Warmup, Clinic and Masterclass
---
Notes on Mutes, Mouthpieces, and Years in a Growing Orchestra
by Harriet Conant Foltinek, retired
During my university years in Alabama, I spent summers in Washington D.C. and took lessons from Mason Jones, principal horn in the Philadelphia Orchestra. After one of my lessons, Jones suggested that I go to a certain music store (which, I recall, seemed to specialize in horns) to buy a mute. When I entered the small store, there was an older gentleman lounging in front of the counter. I proceeded to discuss mutes with the clerk, and after trying a few mutes in my horn, the older gentleman commented that one particular mute seemed to him to sound the best in my small-bore horn. I agreed and proceeded to purchase it. The clerk made a quiet comment to me—I had just chosen a de Polis mute on the recommendation of the legendary Anton Horner!
A few lessons later, Jones suggested that a different mouthpiece might help my sound, and he offered to loan me one on trial. It was well-used, in need of replating, but a nice mouthpiece. There was no marking on it, so it obviously was hand-made. I decided to purchase the mouthpiece (perhaps for $10.00), and I used it from that day on.
Harriet with her
Berv mouthpiece, 2004
After graduating as the first horn major at the University of Alabama, I was offered a job in western Canada with the fledgling Calgary Philharmonic Orchestra. I had 2 weeks to get there for the first rehearsal of a short season. This was a community orchestra which was just beginning to import players in their efforts to become a fully professional organization. Over the following 20 years of growth, many more highly-skilled players were brought in, and as the orchestra grew, I had the opportunity to play each position in the section under a wide variety of conductors.
After a few years in Calgary, I purchased an older model Conn 8D that would blend better with the section, but my de Polis mute was too small for it. When I sold my old horn, I included the mute; but some years later, I learned that the mute was a rather rare one.
Having married and raised a family in Calgary, we moved in 1997 to the beautiful Okanagan Valley of British Columbia. After attending concerts by the area orchestra for a few seasons and chatting with the musicians, I was persuaded to get my horn out and attend an area workshop that summer. During all my years of playing, I had never been to a workshop, so I decided to do it. Lots of hard work and much practice time later, I took part in Horns a' Plenty in Salmon Arm, BC, in the summer of 2004. That led to some casual work locally as well as ten years supporting the area youth symphony horn section. In 2015, after some 65 years, it was finally time to pack up the horn for the last time; but my commitment to music did not wane, and I remained involved by doing volunteer work for the orchestra.
Fast-forward to 2022: the world is slowly opening up again after COVID, and the IHS is able to hold live workshops once more. I took out a membership again just to have a look, and while reading the August issue of Horn and More, I found an article on Dick Martz's huge collection of horns. One link on his site caught my eye: Mason Jones' Mouthpieces. Curious, I opened the link, scrolled down, and found a photo of a couple of scrawled notes in Mason Jones' handwriting with the names of students to whom he had loaned mouthpieces. Bingo! A long-mysterious connection was finally made: I am the Conant to whom Mason Jones loaned a mouthpiece back in the 1950's, as noted in the photo. What a thrill to read this story on the R.J. Martz website and finally learn that I had played my entire career on a marvelous old Berv mouthpiece from Mason Jones' large collection!
---
‍IHS 54 - Recital
---
Ensamble de metales y percusión "José Félix Ribas"
em português
in English
por Gabriella Ibarra
El maestro José Antonio Abreu fundador de El Sistema y amante de los instrumentos de viento metal ideó también el Sistema Nacional de Ensambles de Metales aportándole vida y proyección a este hermoso macroproyecto de formación musical venezolano. El Ensamble de metales y percusión "José Félix Ribas" nace en el año 2008 de la mano del maestro Carmelo Cacioppo en la ciudad de Maracay  luego de haberse formado la orquesta regional del estado Aragua "José Félix Ribas" dirigida por el maestro Christian Vásquez. 
El Ensamble fue creado con el propósito de unificar los criterios técnicos, musicales y artísticos de todos los instrumentistas de metal y percusión del estado Aragua para alcanzar la excelencia interpretativa sobre el escenario. Este ensamble es parte de los programas formativos pertenecientes al Sistema Nacional de Orquestas y Coros Juveniles e Infantiles del Estado Aragua que contribuye a la transformación del ser humano a través de la música como herramienta de vida. 
Es notable el nivel de compromiso que  supera las críticas condiciones socioeconómicas de la Venezuela actual y por ello el cumplimiento de tal misión tiene un valor incalculable y en donde la frase: "TOCAR CANTAR Y LUCHAR" se convierte un verdadero estilo de vida.
Entre los directores invitados cabe destacar la constante participación del maestro alemán Thomas Clamor y el joven director venezolano Ángel Caldera. Cabe destacar también la participación del Ensamble JFR en concierto junto a uno de los ensambles más reconocidos de Venezuela, el Venezuela Horn Ensemble de donde han surgido muchos de los músicos que hoy día son dignos del reconocimiento internacional.
El ensamble JFR está conformado por niños y jóvenes entre 13 y 15 años de edad y cuenta también con el apoyo de los profesores e ex-integrantes de las primeras generaciones. Actualmente está conformado por un total de 38 miembros.
Recientemente se han presentado en importantes salas importantes de la ciudad capital, en el Teatro de la Ópera de Maracay y próximamente tienen planteado un concierto en la Sala de Conciertos Fedora Alemán en Caracas y una gira nacional.
---
‍IHS 54 Exhibits
---
Album Release: Sound Vespers
To my dear friends in IHS land, Hello! I'm excited about my new CD (my 16th recording…I think) Sound Vespers, a new work for six brass (cornet, three trumpets, horn, trombone), one percussionist/tuba, and two electronics/field recording artists. It is now available on CD and for download at my Bandcamp page, www.tomvarner.bandcamp.com, or you can contact me on Facebook for a CD as well.  The CD has six tracks, and there are also 2 extra (long!) tracks only on Bandcamp. Here are some excerpts from my liner notes:
For several years now, I have been fortunate to present a series of annual concerts at Seattle's Good Shepherd Center Chapel Space, inspired by the idea of "combining forces" from within our local improvised-music community and members of the Seattle Phonographers Union, a group that presents improvised multi-laptop field recording sound collaborations. When I first heard an example of Steve Peters' close-mike recordings of termites munching on an old Portuguese church pew, I was hooked, and I immediately had the idea of combining "live" improvisers with field recording/electronics artists. Of course, the Phonographers are also "live" and improvising as well, just like the other instrumentalists.
For our first concert in February 2015, I thought of multiple brass ensembles in a church and those wonderful, strange field recording sounds, and giving our concert the name Gabrieli and the Holy Termites. For me, it was magical, especially because all the improvisers, whether on brass, percussion, or laptops, knew when to play, when to not play, when to blend in, when to clash, when to truly leave silence, and when to blast that silence with something new.
Almost all the other concerts that we've done since have been in late August (2016 to 2022), and they have had a meditative, transitional "summer is over, fall is coming, day-changing-to-night" feel. The beautiful light in the Chapel Space would slowly change to dark as the concerts ended, forming a kind of reflective "sound creation vespers service for all"—or, Sound Vespers.
By 2019, I realized that I really should record one of these events, but instead of simply "live in the Chapel," I would try to record in Seattle's Jack Straw Foundation recording studio, with everyone miked up-close. We would have the chance to be more creative in the mixing, with reverb and panning, as well as with "close ups," and, I thought we might experiment with one or two of the takes. Steve Barsotti recorded a "brass only" take, and with reverb treatments turned it into something else entirely for Brass Band in Marianas Trench. Steve did some other treatments on Sewing Machine Water Train, but all the other tracks are simply "as they were."
And those sounds! I gave up at a certain point trying to figure out "what was what." That's not the point. There were sounds from microphones stuck into the sand at low tide, tap dancers practicing overhead in a parking garage, factories, unknown animals, crackling ice, heartbeats, slabs of quartz for a kitchen counter, along with assorted hand percussion, muted trumpets, low brass long-tones, and a lots of brass player air sounds. During the mixing, I told Steve Barsotti, "I loved those weird crickets at the end of that take!" And Steve answered "Tom, that was not crickets…that was my old Chicago radiator." 
Other than my suggestion that duos begin certain takes, there was no "structure" planned—the forms took care of themselves with such experienced improvisers. Each take had a different focus, each one creating something new. As percussionist Greg Campbell told me last week, "Tom, you had your two big ingredients: beauty and crunch!"
This project would not be successful if it were not for the incredible and unique players: Greg Kelley, Samantha Boshnack, Jim Knodle, Ray Larsen, Haley Freedlund, Greg Campbell, Steve Peters, and Steve Barsotti—all were so human and expressive in their own ways, and I was blessed to be playing with them in the studio that day. And, they "got it," with no rehearsal, no explanation, we just laid down the tracks. There were no out-takes.
It has been a rough three years for so many of us. I hope these Vespers can bring you some beauty, humor, reflection, and joy.
Tom Varner, August 25, 2022.
---
‍IHS Awards & Competitions Update
The IHS Awards and Competitions information has been updated online. Please visit www.hornsociety.org to find the current submission deadlines, requirements, and repertoire. Coming up is the December 1, 2022 deadline for the Barry Tuckwell Award. The winner of this award receives $500.00 towards expenses to attend any horn masterclass or workshop in the world.
---
‍IHS 54 - PHAT Band
---
‍
Dear Friends,  
On behalf of the International Horn Society, I ask for your support: if you are a student, teacher, administrator, employee, or horn enthusiast, we ask you to share the ordering information for The International Horn Society: The First 50 Years with your local or institutional library and advocate for its purchase. Ordering information can be found at this link.  
This book, commemorating the 50th anniversary of the IHS, is a high-quality, hard-cover publication that combines historical information and data on the society and its activities and programs over its first fifty years with almost 900 pictures documenting IHS people, symposia, and publications which have contributed to its noteworthy history. 
Thank you for your consideration. If you have any questions about the book or the ordering process, please feel free to contact me or IHS Executive Director Julia Burtscher at exec-director@hornsociety.org. 
Jeffrey Snedeker
Author and General Editor 
The International Horn Society: The First 50 Years
snedeker@cwu.edu
---
‍New IHS Member Benefit
‍The IHS is delighted to bring to our members a great new benefit! Log onto your account at www.hornsociety.org and select Special Members Only Discounts found under the Market tab. Here, you will find special offers and discounts from our supporting vendors with information on how to take advantage of these. Additionally, if you represent a horn-related business and would like to make special offers to IHS members, please do not hesitate to let us know by contacting Radegundis Tavares at president@hornsociety.org.

---
Composer Spotlight
Faye-Ellen Silverman
by Caiti Beth McKinney
Hello all!
I am so excited to be introducing diverse composers and their works for horn every month in Horn and More! Our first feature is on prolific composer, author, and educator Faye-Ellen Silverman.
Born in New York City, Silverman has studied music since childhood, including piano, clarinet, viola, and composition. Having attained advanced degrees from Harvard and Columbia University, Silverman has been a faculty member at The Peabody Institute at Johns Hopkins University and The Mannes School of Music at the New School, and she is currently teaching at New York University and Juilliard Extension. Additionally, she is a founding member of the International Women's Brass Conference and currently serves on their Board of Directors, and she is the Board Secretary of New York Women Composers, Inc.
Silverman has written many pieces which feature the horn in combination with other instruments. One of her more recent works, Singing to My Mother (2018), was commissioned by Julie Landsman in memory of her mother. Melodic material in this solo horn piece is based on the Jewish lullaby "Raisins and Almonds," which was popularized in 1880 by poet and playwright Abraham Goldfaden for his Yiddish musical Shulamis. Singing to My Mother takes the horn on an emotional journey across the range of the horn, frequently dipping into bass clef as the melody varies and transforms.
Another of Silverman's notable works is entitled Protected Sleep, for horn and marimba. The music is also based on a Jewish melody, "Durme, Durme," a Judeo-Spanish lullaby which translates to "Sleep, Sleep." Drawing on the incredible colors created by such a combination, Protected Sleep allows both the horn and marimba to shine individually and as a duo through alternating moments of unison, solo, and complex counterpoint.
Left Behind for horn and mezzo-soprano sets the poems "The Dream" and "Sonnet II" from Renascence and Other Poems (1917) by Edna St. Vincent Millay, is a tour-de-force of communication. In particular, the challenging third movement, "Solo Horn Interlude," is highly emotional but richly rewarding for the performer.
Silverman's other works for horn include Dialogue for horn and tuba, Dialogue Continued for horn, trombone, and tuba, From Sorrow for trumpet, horn, and bass trombone, and several brass quintets and woodwind quintets. Many of these pieces can be heard on her album Manhattan Stories recorded by horn players David Jolley and Ann Ellsworth.
For more information, please visit Faye-Ellen Silverman's website at https://www.fayeellensilverman.com or visit www.subitomusic.com to purchase her music.
---
‍IHS 54 - NUCorno Ensemble
---
‍IHS Composition Contest Now Open
---
‍IHS 55 Rendez-vous à Montréal! 
‍
As a student, I never imagined that the International Horn Symposium would be something for me. I had this misconception that it was for horn players who only wanted to talk about mouthpieces and gear. So it wasn't until 2015—late in my thirties and many years out of school—that I finally attended my first Symposium, held that year in Los Angeles. I quickly realized how wrong I had been. I was amazed by the quality of the concerts, the boldness and refinement of the players, the diversity of activities, and the amazing social life and community. I was a stranger, yet I was made to feel so welcome by all the incredible people who quickly became my friends and my colleagues. I was a part of something bigger, and it felt really good!
Over the next few years, I went to every Symposium, with a growing feeling that Montréal would be an ideal host city someday. In 2018, I started gathering horn players from around the city and we began working on a bid for the 2021 Symposium. When COVID hit, we had to make the difficult decision to postpone, but here we are, less than 11 months before what we hope will be one of the best horn fests ever!
Our dynamic team is working hard on making your trip to Montréal as wonderful as it can be. Our featured artists roster is set. Social activities are being programmed as you read this. Concerts, competitions, and masterclasses are on the schedule, and banquet beer is being brewed! Hundreds of activities await you, whether you are a student, an amateur, a professional, an exhibitor, someone who just owns a horn, or any combination of the above.
From July 24 to 29, 2023, rendez-vous à Montréal!
Louis-Philippe Marsolais, Host
Lors de mes études, je n'avais jamais imaginé que le Symposium International de Cor s'adressait à moi. J'avais cette conception erronée que c'était pour les cornistes qui voulaient parler d'embouchure et d'équipement! Pour cette raison, j'ai assisté à mon premier Symposium seulement en 2015, alors dans la trentaine avancée et sorti de l'école depuis longtemps. J'ai vite réalisé que je m'étais trompé sur toute la ligne. J'ai été ébranlé par la qualité des concerts, l'audace et le raffinement des cornistes, la diversité des activités et l'incroyable vie sociale autour de tous les événements. J'étais un étranger, mais je me suis senti accueillis par de gens formidables, qui sont rapidement devenus amis et collèges. Je faisais partie de quelque chose de plus grand et j'ai vraiment aimé ça!
Au cours des années qui ont suivi, je suis retourné à chaque Symposium, avec le sentiment toujours plus fort que Montréal serait une ville hôte idéale. En 2018, j'ai rassemblé quelques cornistes québécois et on a commencé à travailler sur la candidature de Montréal pour le IHS de 2021. Quand la COVID nous a frappés, on a dû prendre la décision de reporter, mais nous voici maintenant, onze mois avant ce qui sera, on l'espère, une des plus grandioses fêtes du cor!
Notre équipe dynamique travaille d'arrache-pied pour rendre votre voyage à Montréal le plus merveilleux possible. Nos artistes invités sont déjà confirmés, les activités sociales sont développées en ce moment même. Les concerts, concours, répétitions, cours de maître sont à l'horaire et la bière pour le banquet est en voie d'être brassée. Des centaines d'activités vous attendent, que vous soyez un étudiant, un amateur, un professionnel, un exposant, ou seulement quelqu'un qui possède un cor!
Du 24 au 29 juillet 2023, Rendez-vous à Montréal!
Best wishes!
Louis-Philippe


‍YOUR HORN AND MORE IHS E-NEWSLETTER TEAM:
Mike Harcrow, Editor, hornandmore@hornsociety.org
Dan Phillips, Technical Editor
Daniel Grabois, Pedagogy Column
Nobuaki Fukukawa
Gabriela Ibarra
Austris Apenis
Angela Winter
Heather Thayer, Proofreader

‍International Horn Society
P.O. Box 5486
Toledo, OH 43613
USA